---
Valentine's Day is a great time to celebrate the relationships in your life. Traditionally gift giving has been associated with a love relationship, a significant other. However, if you are a father of daughters you know that a Valentine should be given to all the ladies in your life. Valentine's Day gifts are for all of those you love. Valentine's Day is the perfect time to express your appreciation to the people who mean so much to you, the people who make your life incredible. Below we have created a list of our 5 favorite Valentine's Day gifts. Take a look, you just might get some loving inspiration!
The Iron Heart Lantern Tealight Candleholder
This unique candleholder symbolizes the loving light that exists within each and every one of us. The Iron Heart is lovingly etched by hand providing unbelievable detail. This lantern is the perfect reminder of enduring love. The lantern has a small heart-shaped door on the back which opens to hold a single tealight. Once lit, the lantern produced a dancing romantic glow softening the feeling of any room. he Iron Heart Lantern is the perfect gift for every loved one in your life.
This product also features an antique silver finish, elegance hand-crafted in India, one mount for one tealight, and a 12" silver hanging chain. The Iron Heart Lantern is a gorgeous unexpected gift sold by World Market.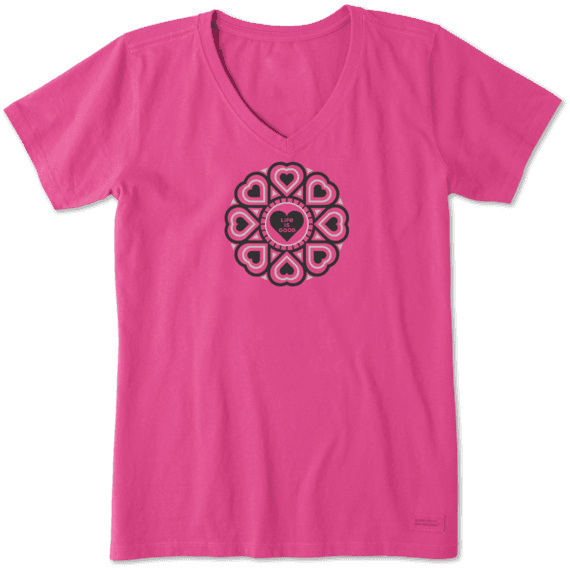 The Women's Primal Heart Crusher Vee From Life Is Good
The Primal Hearts Crusher Vee is a brand new design from Life Is Good but it is sure to be an instant classic. And, if you have never owned a Crusher Tee from Life Is Good, you are in for a real treat. The Crusher Tee is 20 years in the making and has definitely reached the point of t-shirt perfection. This is a product made in the USA all the way down to the cotton material. Every Life Is Good Crusher Tee is garment washed for superior softness. The Primal Hearts Vee is laid back and perfect for stylish relaxation. The great thing about making a gift purchase from Life Is Good is that 10% of company profits go to organizations helping kids in need. This is a win-win gift with a charitable heart and good vibes all around!
The Hearts Pashmina From Scarves.com
This is the perfect scarf for the Season of Love. The black background is the perfect setting for the eye-popping cherry red hearts scattered from end to end. The hearts in the center of the scarf are small and increase in size as they radiate outwardly toward the ends of the garment, a symbol of growing love. The beautiful fringed edges give this scarf a frivolous quality perfect for a spontaneous date night. Scarves.com offers a 100% satisfaction guarantee return policy so you can purchase worry free! This is a gift that will be remembered year after year as Valentine's Day rolls around. The Hearts Pashmina is a stylish, unique gift for that special someone in your life!
The Little Candy Hearts Tie from Ties.com
Just to match the Hearts Pashmina, we recommend the Little Candy Hearts Tie. This is a necktie that is full of romance, style, humor, and love. Colorful candy hearts dance across the bold red background. Give your charming gentleman so seasonal flare which will become an annual favorite. This tie won't be around for very long so you better get yours soon before the day passes by. This gift is 100% fun!
The dimensions of this tie are 3.5" x 58". It is a product of necktie manufacturer Wild Ties. The Little Candy Hearts Tie is 100% microfiber material and is imported.
The Private Reserve Red Velvet Heart from Russell Stover
We would be absolutely crazy not to have one heart-shaped box of candy on out 5 Great Valentine's Day Gifts for 2019 list. The Private Reserve Red Velvet Heart is one of the most elegant Valentine's Day gifts offered by Russell Stover.The boxes exterior is covered in, you guessed it, red velvet. The elegance on the outside is no match for the elegant selection of premium chocolates found on the inside. On Valentine's Day, you really cannot go wrong with a box of chocolates. It's the perfect gift for everyone on this special day!
The Private Reserve Red Velvet Heart from Russell Stover is filled with a 17 oz. selection of their most elegant chocolates. This is an assortment you will love!
Well, hopefully, this list inspires some great ideas for Valentine's gifts this year. Spread as much love as you can in 2019! Happy Valentine's Day from Dad's Tie!
---